The word platform is used in multiple contexts and is used to refer to a variety of technology and business solutions.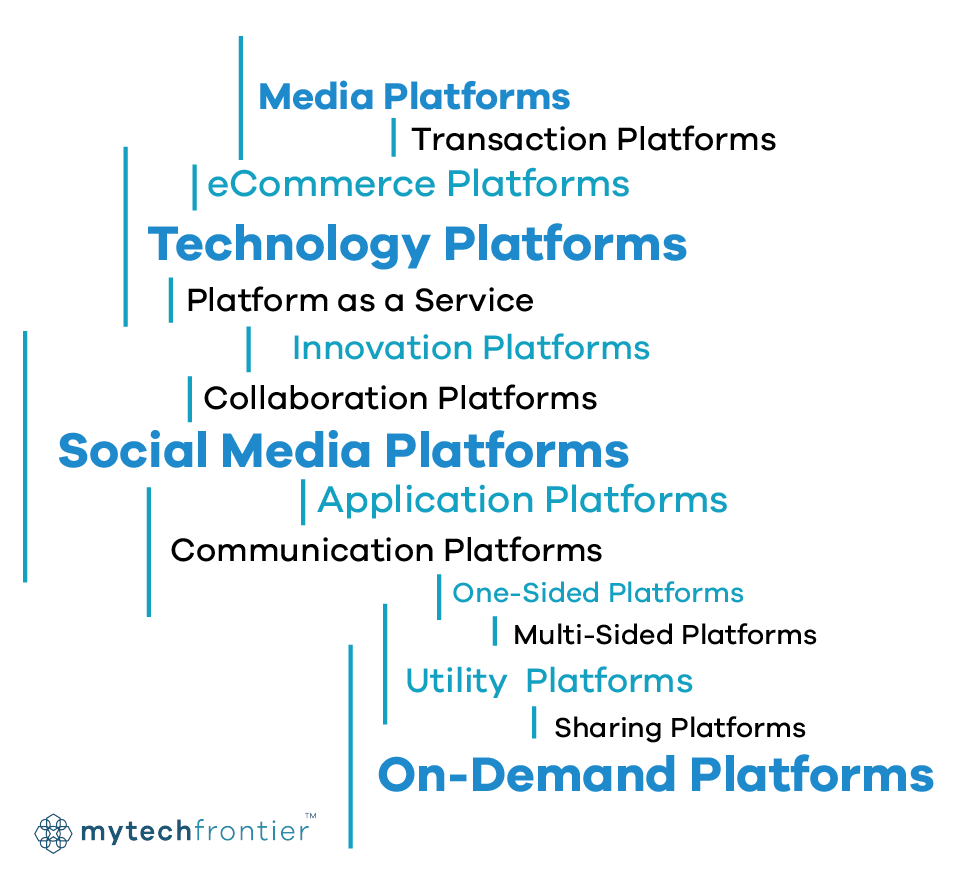 Even though there exists this wide array of platforms, many of these platforms leverage similar underlying technology and growth framework to gain scale and efficiency.
In this section, we focus on explaining the essential strategies and technologies deployed by the platform firms, their operating design, economic value-add, and the strategic relevance and impact of the technology.

The nature of activities facilitated by platforms is a useful criterion to deconstruct platforms, as it has implications on the technological and operational set up of the platforms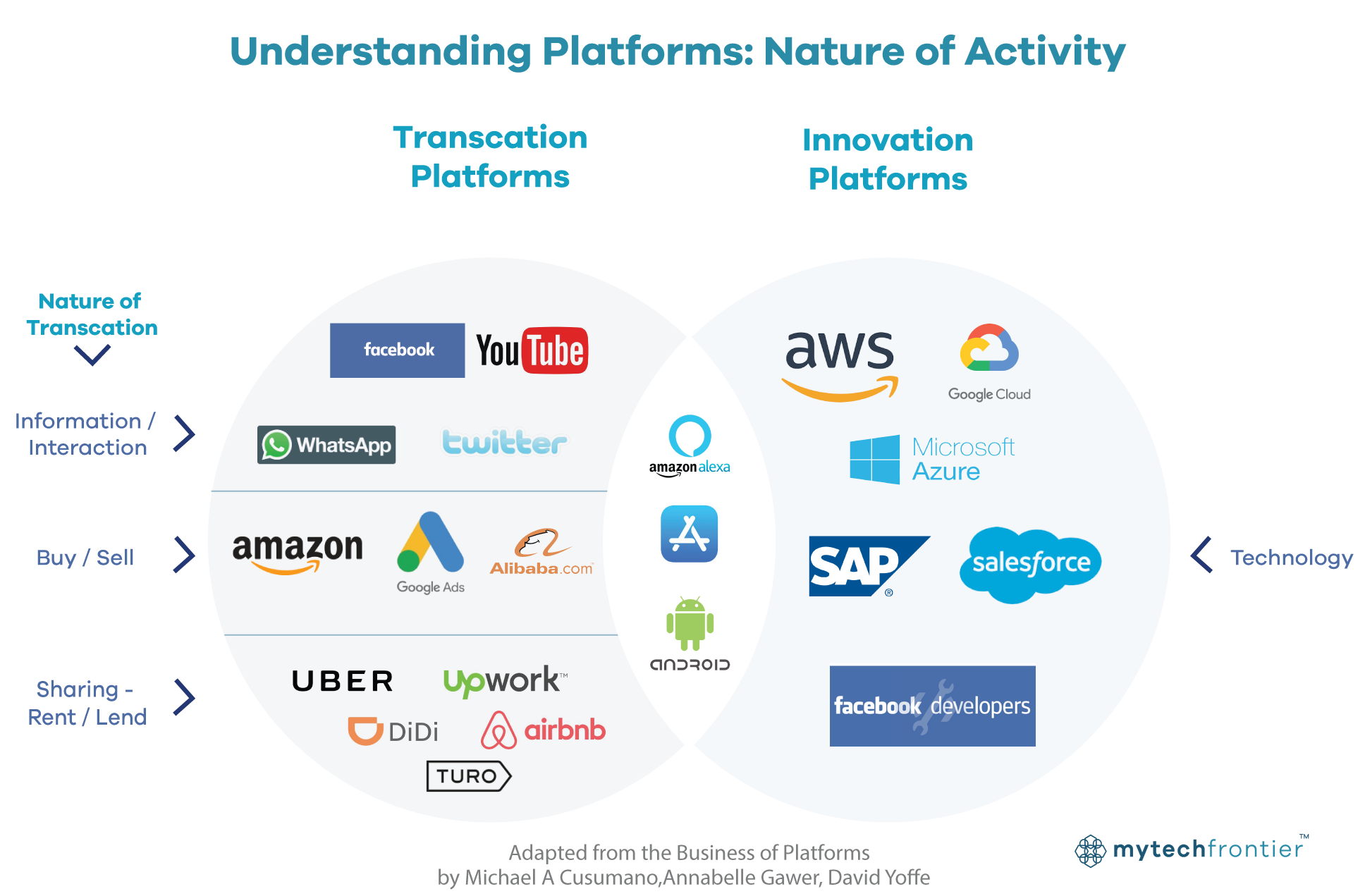 Based on the nature of the activity facilitated, the majority of the platforms can be classified, as either Transaction, or Innovation Platforms.
Transaction platforms that are also known as marketplace platforms, these platforms serve as intermediaries that enable direct interactions or transactions between the platform users.

The nature of transactions on these platforms could range from information exchange or interactions, to trading of products or renting of assets or services among the platform user groups.
The commercialization of cloud computing, artificial intelligence, and payment technologies has made it significantly easier for businesses and startups, to set up transaction platforms and enable trading of a variety of activities.

Innovation Platforms are also referred to as Technology platforms and focus on providing the technology infrastructure and tools for developers to innovate and develop new applications for their customers.

These platforms typically require proprietary technology and involve significant resources and investments in technology infrastructure to set up.

While this categorization is helpful to analyse various types of platforms and understand their set up, in practice, the offerings of the platforms and more so big technology platforms do overlap between both these categories.

For example, few technology platforms, along with providing the development tools, also facilitate transactions between developers and users on the platforms. Examples of such platforms include Apple's App Store, Android's Playstore or Amazon's Alexa Developer Ecosystem.

The number of user groups interacting on the platforms, influences the growth trajectory, operational complexity, economic value-add and comparative advantages of platforms.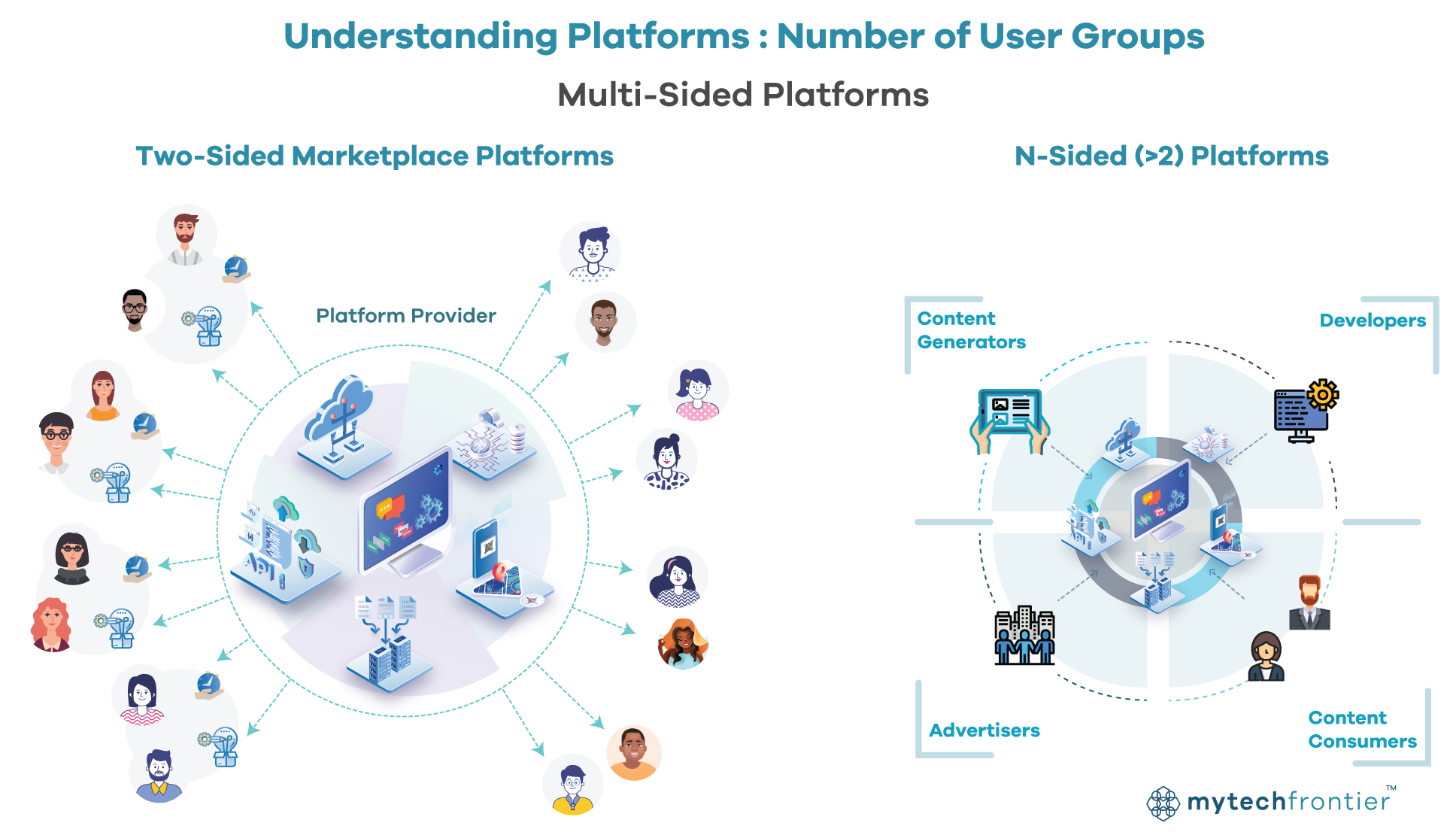 Multi-sided platforms refer to platforms with two or more than two distinct user groups interacting on the platform.
The most common form of multi-sided platforms is two-sided marketplaces, that create value by enabling direct interactions or transactions between two distinct groups of users.

For example, eCommerce platforms, facilitate direct interaction between service providers or product owners, who make their services or products available through the platform, and with the users on the demand-side, who obtain these services or products through the platform.

N-Sided Platforms are typically an extension of the two-sided platform structure, whereby multiple user groups leverage the platform, to provide services or products that either add value to the core transacting user groups on the platform, or enable monetisation of the platform.
To Read More
Submit Your Email