Ant Group that was previously known as Ant Financial has experienced significant growth and is now the biggest Fintech company in the world.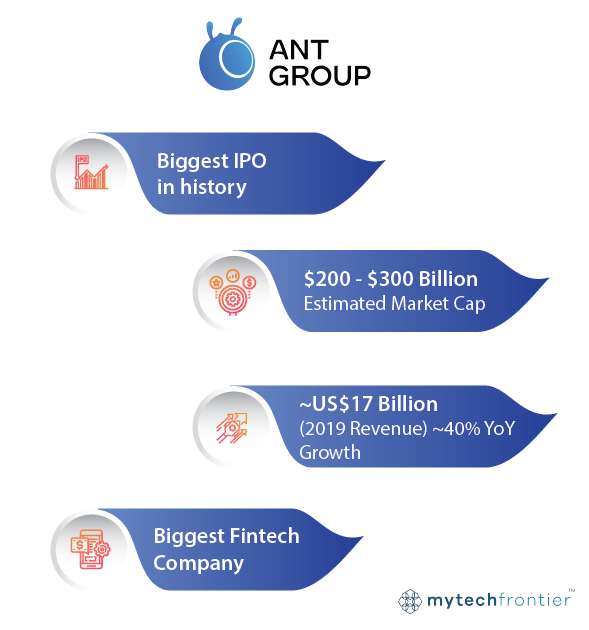 Ant Group has recently been in the news due to its impending IPO. It is expected to be the biggest IPO, ever globally with an estimated valuation of as big as US$300 billion.
The company has experienced significant growth in the last few years and has logged in annual revenues of ~US$17 billion in 2019.
In this section, we will track Ant Group's transformation from an eCommerce payment solution to a large-scale Digital Finance services company. And highlight how the company leveraged platform technology, and platform operating design, to fuel its growth and expansion.

Ant Group's business today is centred around its Alipay Platform, that powers its Payments, Life Services, and Digital Finance, divisions.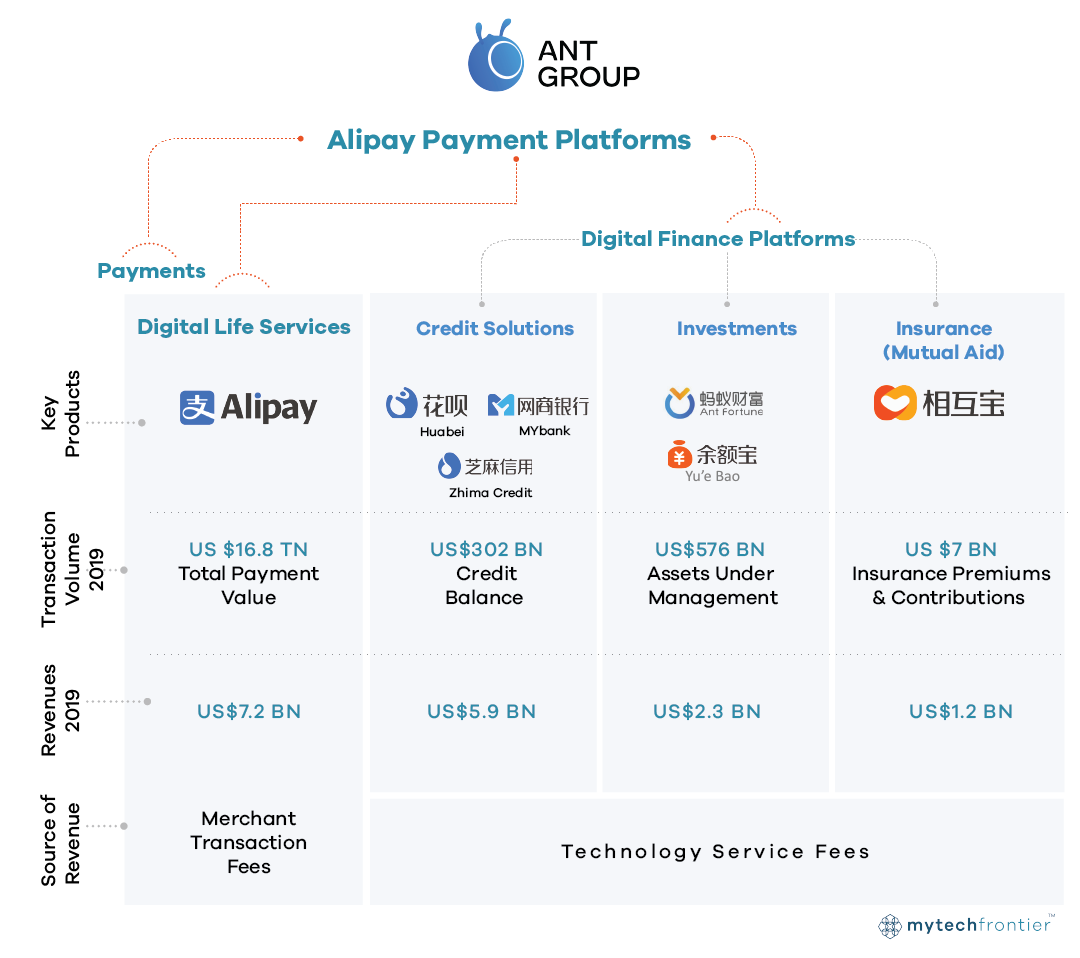 As is widely known, Alipay is the leading mobile payment service in China, with more than 700 million users, using the app every month.

The app allows users to make payments across a broad range of online and offline businesses, including daily expenses such as transportation, meal delivery, and entertainment.
The Alipay app is reported to have facilitated as much as US$16.8 trillion in payments and has generated ~US$7.2 Billion in revenue for Ant Group.

Starting in 2013, the company extended its payments platform infrastructure, data, and user reach, to design a series of economically efficient digital finance services.

Today its Creditech business serves the credit needs of consumers and SME businesses. It partnered with nearly 100 banks and facilitated ~US$302 billion of loans.
Ant Group also owns the largest online investment platform in China, with nearly ~US$576 Billion, in Assets Under Management.
The company also provides a wide range of personalised and accessible insurance products in partnership with insurance players. It has enabled insurance premiums and contributions of ~US$ 7 billion.
In 2019, Ant Group generated nearly ~US$9.5 Billion in Technology Service fees, from financial partners leveraging its platform, to reach users and to efficiently deliver their products.

Alipay launched its operations to fulfil the trust gap between Alibaba's eCommerce buyers and sellers.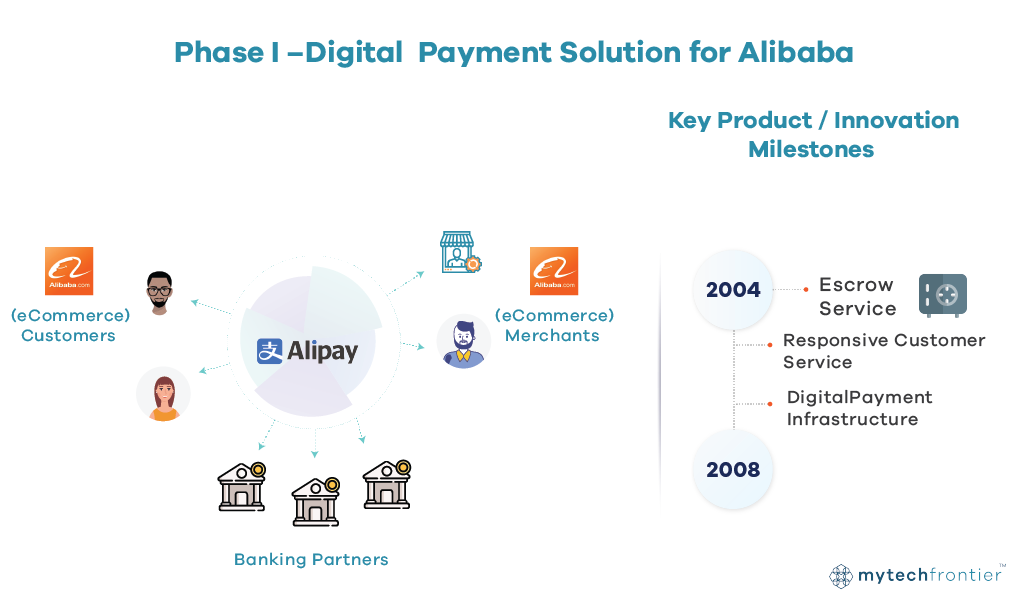 Before Alipay's launch, users in China were wary of transacting online, as there was no established and trusted online payment mechanism in the market. Credit card penetration was still low, and the digital banking infrastructure was not yet fully developed.
To address this challenge, Alipay set up an escrow service to hold the payments made to sellers, until the buyers received the product. This service played a critical role in enhancing the trust and increasing the transactions on Alibaba's platform.
The company further strengthened users trust, by instituting fraud compensation policies, and responsive customer service processes.
As it gained scale, the company began to form strategic partnerships with banks to automate and strengthen its payment processes.
It recognised early on that Alipay had the potential to generate value beyond the Alibaba platform and could fulfil the broader gap in China's digital payments space. And it began to lay the technology and policy groundwork to build a robust digital payment infrastructure, and expand the Alipay ecosystem.
To Read More
Submit Your Email